Israeli architecture association faces ban from international forum
Royal Institute of British Architects proposes boycott of Israeli Association of United Architects' over Palestinian settlements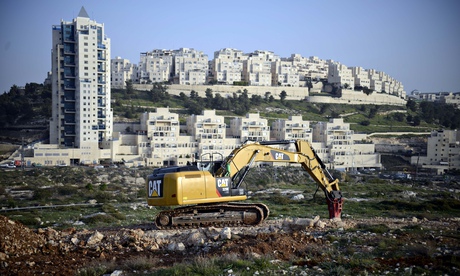 Britain's leading architectural association has called for its Israeli counterpart to be excluded from the International Union of Architects in protest at
Israel
's occupation of Palestine, in a further indication of the growing momentum of the boycott movement.
The Royal Institute of British Architects (Riba) has demanded the suspension of the Israeli Association of United Architects (IAUA) from the international body, saying it is complicit in the construction of illegal settlements in the West Bank and East Jerusalem, and other violations of international law.
The former Riba president Angela Brady
told a meeting of its council on Wednesday
that failure to back the motion "would send a clear message to the world that we as an institution turn a blind eye or by inaction support what's going on – land grabs, forced removals, killing the state and human rights, and reinforcement of apartheid".
But other council members pointed to human rights violations in other parts of the world, such as North Korea, which is a member of Riba. "Don't you think architects are designing prison camps and torture chambers there?" asked one council member, Francesca Weal.
The motion – backed by 23 votes to 16, with 10 abstentions – was welcomed by the Palestinian BDS (boycott, divestment and sanctions) movement. It claims there is mounting international support for a boycott of Israel and points to an increasing number of companies disinvesting over fears of damaging their reputations.
"Architects and planners are central to Israel's colonisation of Palestinian land and the forced displacement of Palestinian people," said Rafeef Zaidah, of the Palestinian BDS national committee. "Given the complicity of the [IAUA] in Israel's construction of illegal Israeli settlements, it is only right that it is excluded from international forums."
Prof Baruch Baruch of the IAUA said the decision was "astonishing". He added: "I don't think architects can be blamed for government policies. I don't think boycotts will help to solve any of the problems in the Middle East."
His organisation, which includes Israeli-Arab architects, was not complicit in settlement construction. "A lot of members are against settlements and building in the West Bank. They won't be helped by a boycott."
Calls to boycott Israeli institutions have bitterly divided academic bodies in the UK, US and elsewhere. European governments are under pressure from trade unions, NGOs, churches and other organisations to take a tougher stand on Israeli settlement produce.
In response, the Israeli prime minister, Binyamin Netanyahu, said: "Attempts to impose a boycott on the state of Israel are immoral and unjust. Moreover, they will not achieve their goal."
FUENTE: http://www.theguardian.com/world/2014/mar/20/israel-architecture-association-ban-international-forum-palestinian-settlements